Bieren van de tap / Draught beers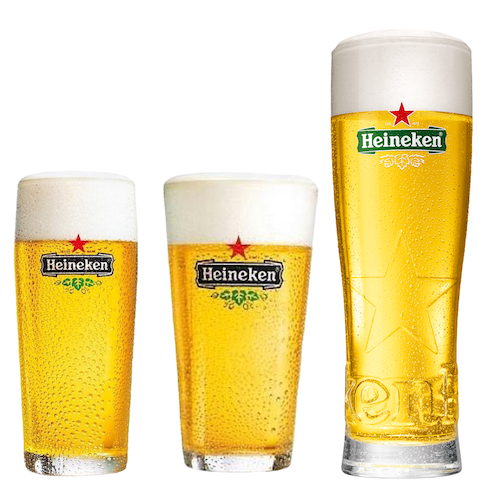 Heineken Fluitje 0,18 L

2,90

Heineken Vaasje 0,25 L

3,50

Heineken Pint 0,5 L

7,00
Birra Moretti (4,6%) 0,25 L

3,90

Authentiek Italiaans kwaliteitsbier. Een speciale mix van hop die een unieke smaak en aroma geeft en de perfect uitgebalanceerde bitterheid versterkt.

Authentically Italian quality lager. A special blend of hops that gives a unique taste and aroma, enhancing its perfectly balanced bitterness.

Affligem Blond (6,8%) 0,30 L

5,20

Blond abdijbier, met een zachte en rijke smaak. Een milde bitterheid ondersteunt de zachte fruitigheid.

Blond abbey beer, with a soft rich taste. A mild bitterness supports the soft fruitiness.

Brand IPA (7%) 0,25 L

4,90

India Pale Ale. Fruitig, citrusachtig en lekker zacht bitter. Tongstrelend fris, heeft een fruitige geur van mango en een bitter fluweelzachte afdronk.

India Pale Ale. Fruity, citrussy and a nice, soft bitter. Mouth-watering freshness, has a fruity fragrance of mango and a bitter, velvety soft finish.

Brouwerij 't IJ "IJwit" (6,5%) 0,30 L

4,90

Amsterdams witbier. Frisse smaak, kruidige en citrusachtige tonen en licht zoete afdronk.

Amsterdam white beer. Fresh flavour, hints of spices and citrus and a slightly sweet aftertaste.

Texels "Skuumkoppe" (6%) 0,30 L

4,90

Donkere weizen. Volle smaak, puur, robuust en rechtdoorzee, bier als Texel zelf.

Dark wheatbeer. Full taste, pure, rugged and straightforward, beer like the isle of Texel itself.

Seizoensbier

Wisselend bier.

Seasonal beer.
Bieren van de fles / Bottled beers
Brand Weizen (5,1%)

4,90

Weizen bier. Volmout tarwebier. Zacht en friszoet, met een fruitige en lichtkruidige smaak.

Barley malt wheatbeer. Soft, fresh and sweet, with a fruity and slightly spicy taste.

Paulaner Weißbier (5,5%)

4,90

Weizen bier. Licht aroma van banaan. Tonen van mango en ananas en een goede balans tussen zoet en bitter.

Wheat beer. Mild aroma of banana. A trace of mango and pineapple and a good balance between sweet and bitter.
Palm (5,4%)

4,90

Amberbier. Vlot doordrinkbaar. Lichte karamelsmaken met honingachtige malsheid.

Ale. Easily drinkable. Light caramelflavours with a honeylike tenderness.

Orval (6,2%)

5,90

Trappist Ale. Dit unieke en eigenzinnige trappistenbier is een lekker fris, zurig en doordrinkbaar bier met vrij bittere toetsen en een droge afdronk.

This unique and quirky trappist beer is a nice, fresh, sour and drinkable beer with quite bitter notes and a dry finish.
Brugse Zot Blond (6%)

5,70

Blond bier. Fruitig en kruidig aroma. Ontdek citrusachtige toetsen en een zekere bitterheid in de smaakbeleving. Een evenwichtig doordrinkbier met karakter.

Blond beer. Fruity and spicy aroma. Discover some citrussy tones and some bitterness as well. A Well balanced, easily drinkable beer with character.

Duvel (8,5%)

5,90

Blond bier. Krachtige hop smaak. Een natuurlijk bier met een subtiele bitterheid, een verfijnd aroma en een uitgesproken hopkarakter met een aangename alcoholzoete smaak.

Blond beer. Powerful hoppy flavour. A natural beer with subtile bitterness, a delicate aroma and a distinct hoppy character with a pleasant taste of sweet alcohol.

La Chouffe (8%)

5,90

Blond bier. Toetsen van citrusvruchten. De krachtige, aangenaam kruidige en licht hoppige smaak geeft het bier de perfecte body.

Blond beer. Hints of citrus. The powerfull, spicy and slightly hoppy flavor gives the beer the perfect body.
Affligem Dubbel (6,8%)

5,90

Een aantrekkelijk donker bier dat zijn zachte smaak combineert met een kruidig ​​aroma.

An attractive dark beer that combines its smooth taste with a spicy aroma.

Brugse Zot Dubbel (7,5%)

5,90

Een iets zwaarder bier. Het onderscheidt zich met een unieke bittere toets.

A slightly heavier beer. It stands out with a unique bitter touch.

Westmalle Dubbel (7%)

5,90

Donker trappistenbier met een rijke en complexe smaak, die wordt gekenmerkt door toetsen van karamel, mout en fruitige esters die doen denken aan rijpe banaan. Een evenwichtig bier met zacht mondgevoel en een lange, droge afdronk.

Dark trappist beer with a rich complex flavor which is sold by notes of caramel, malt and fruity esters, reminiscent of ripe banana. A balanced trappist beer with a soft mouthfeel and long dry finish.

Carolus Classic (8,5%)

5,90

Dubbel. Donkere, zeer evenwichtig gedoseerde karamel- en aromatische mouten zorgen, in combinatie met een traditionele hoge gisting, voor een uniek bier dat de warmte van wijn en de frisheid van bier verenigt.

Dark ale. Dark, very well balanced caramel- and aromatic malts, in combination with a traditional high fermentation, creating a unique beer that combines the warmth of wine and the freshness of beer.
Westmalle Tripel (9,5%)

5,90

Tripel. Een helder, goudgeel trappistenbier. Complex, met een fruitige geur van rijpe banaan en een mooie, genuanceerde hopneus. De zachte en romige smaak, met een bittere toets gedragen door het fruitaroma, heeft veel finesse en elegantie. Het heeft een heerlijk lange en droge afdronk.

Triple. A clear golden yellow trappist. A complex beer with a fruity aroma of ripe banana with also a beautiful hoppy nose. The soft and creamy taste, with a bitter touch, carried by the fruit aroma, has a lot of finesse and elegance. It has also a delicious long and dry finish.

Gouden Carolus Tripel (9%)

5,90

Tripel. Een volmondige smaak die dorstlessend werkt dankzij evenwichtige hoppen. Een zwaarder, ietwat kruidig en verfrissend bier.

Triple beer. With a full-bodied taste that has a thirst-quenching effect, thanks to the balanced hops. A heavier beer with a hint of spice, but also refreshing.

Affligem Tripel (9%)

5,90

Goudkleurig bier met een intense, rijke smaak. Volmondig met nuances van steenvruchten en citrus. De hergisting op fles geeft Affligem Tripel zijn kenmerkend bruisend karakter en frisse afdronk.

A Tripel as intense as it is deliciously smooth. A full bodied golden Belgian ale, with an intriguing aroma of ripe sun-kissed fruit, all balanced out by a subtle bitterness.
Fruitige bieren / Fruity beers
Apple Bandit cider (4,5%)

4,90

Pure appelcider met een frisse, licht droge smaak.

Pure apple cider with a fresh, slightly dry taste.

Kriek (4%)

4,90

Kersenbier. Fris biertje met de zoete smaak van kersen en een lichtzurige ondertoon.

Cherrybeer. Fresh beer with the sweet taste of cherries and a slightly sour undertone.

Liefmans Fruitesse (4,2%)

4,90

Rosébier. Zacht, fruitig witbier met een fijne friszoete smaak.

Rosébeer. Soft, fruity wheat beer with a nice fresh & sweet taste.

Liefmans Fruitbier (4,2%)

4,20

Een sprankelende aperobier met frisse en intense smaak van aardbeien, frambozen, krieken, vlierbessen en bosbessen.

A sparkling apero beer with a fresh and intense taste of strawberries, raspberries, cherries, elderberries and blueberries.

Sol (4,5%)

5,50

Mexicaans bier. Zomerse, frisse dorstlesser.

Mexican beer. Refreshing, thirst-quenching summer beer.

Amstel Radler (2%)

3,80

Radler. Een natuurlijke mix van Amstel bier en citroenwater. Dubbel verfrissend.

Lemon beer. A natural mix of Amstel beer and lemonwater. Twice as refreshing.
Amsterdams Bier / Amsterdam Beers
Mokum Bier (5%)

3,80

Amsterdams pilsener. Een licht en helder biertje, met een goudgele gloed en stevige witte schuimkraag.

Amsterdam Pilsner. A light and clear beer, with a golden yellow glow and a firm white head.

Brouwerij 't IJ "Blondie" (5,8%)

5,70

Een zacht blond bier met een frisse kleur en licht moutige aroma's.

A soft blond beer with a fresh color and slightly malty aromas.

Brouwerij 't IJ "Zatte" (8%)

5,90

Amsterdams tripel. Aroma van vers fruit en vleugje graan. Stevig, lichtzoet en een fijne, droge afdronk.

Amsterdam tripel. Nose of fresh fruit and hints of wheat. Firm, slightly sweet and a fine, dry aftertaste.

Brouwerij 't IJ "IPA" (7%)

5,90

India Pale Ale. Aroma van grapefruit en bloemen en een fruitige, bittere afdronk.

India Pale ale. Nose of grapefruit and flowers and a fruity, bitter aftertaste.

Brouwerij Zeeburg Weizen (5,7%)

5,70

Weizen. Een traditioneel volfris hefe weizen bier; goudgeel van kleur, kruidig en fruitig.

A traditional full and fresh hefe weizen beer; a golden yellow colour, hints of spices and fruity.

Brouwerij Zeeburg Dubbelbock (8,2%)

5,70

Dubbelbock. Een stevige romige Dubbelbock van lage gisting met een uitgesproken zuivere karamelmoutige smaak.

A firm creamy Dubbelbock of low fermentation with a distinct pure caramel malty taste.

Brouwerij Zeeburg Tripel (8,2%)

5,70

Tripel. Een volmoutig bier van hoge gisting met een aangenaam verwarmende afdronk. Dit karaktervolle bier past in de rijke traditie van de Belgische tripels.

A full malty beer of high fermentation with a pleasant, warming finish.
Heineken (0,0%)

3,80

Alcoholvrij bier. Een verfrissende en fruitige smaak met een zachtmoutige body.

Alcohol-free beer. A refreshing and fruity taste with a soft and malty body.

Amstel Radler (0,0%)

3,80

Alcoholvrij bier. De dorstlessende mix van alcoholvrij Amstel bier en citroenwater. Lekker verfrissend op elk moment van de dag.

Alcohol-free beer. The thirst-quenching mix of non-alcoholic Amstel beer and lemon water. Nice and refreshing at any time of the day.

Paulaner Hefe Weizen (0,0%)

3,80

Alcoholvrij bier. Weißbier Alkoholfrei heeft het aroma en de volle body van een gewone Paulaner.

Alcohol-free beer. Weißbier Alkoholfrei has the aroma and full body of a regular Paulaner.